A New Visual Identity for Autonolas
How and why we've updated our look
2022-07-05 • Autonomous Contributors
What's changed
As we've moved closer to our goals and grown as an organization, our needs as a brand have matured and changed. Recently, it became clear that we needed to revisit and refine the values that stand at our core. Through the process of exploring who we are, how we see ourselves and who we want to be, it became obvious that we needed to integrate these ideas and values into a new visual identity.
Brand core
We started by defining our brand core: these concepts and truths are the "heart" of the brand and what it ought to mean. Everything needs to radiate out from, or reflect back on, one or more of these elemental principles and ideas. After a period of reflection, our founding team shared their thoughts about the brand and the mission.They provided this feedback both separately, and then together.
At the end of this process, we had the following points to consider and integrate into the visual identity of the brand:
We are unique, we are pioneering the autonomous edge of what's possible–in crypto and beyond.
We want our branding to elicit one or more of the following emotions:
Safety  -  a sense of ethical and technical competence Hope  -  autonomy will usher in a better future for humanity Wonder  -  there is a whole new world to learn about and explore Excitement  -  the technology is powerful and cool
A key concept that emerged in our discussions was the idea that machine autonomy will enable and empower human autonomy–two sides of the same coin.
Brand values
The emotions are our new brand values: Safety, Hope, Wonder and Excitement.
The new visual identity
With the new, more precise brand core established, it became clear the current identity we were using was no longer fit to purpose. It was too dark, too metallic and had too many sharp edges and textures. The graphic elements did not effectively convey any of the brand's values. Taking these aspects into consideration, we started the process of building a new visual identity.
However, the existing brand identity, which many liked, will live on in the world of Alter Orbis, our companion lore.
The new brand is built around the brand values. We went through 4 different design iteration cycles before arriving at what would become the new visual identity. As a part of the design process, we solicited feedback from both the Autonolas community and our internal team members. Their feedback, ideas and input helped us to further refine and develop the visuals.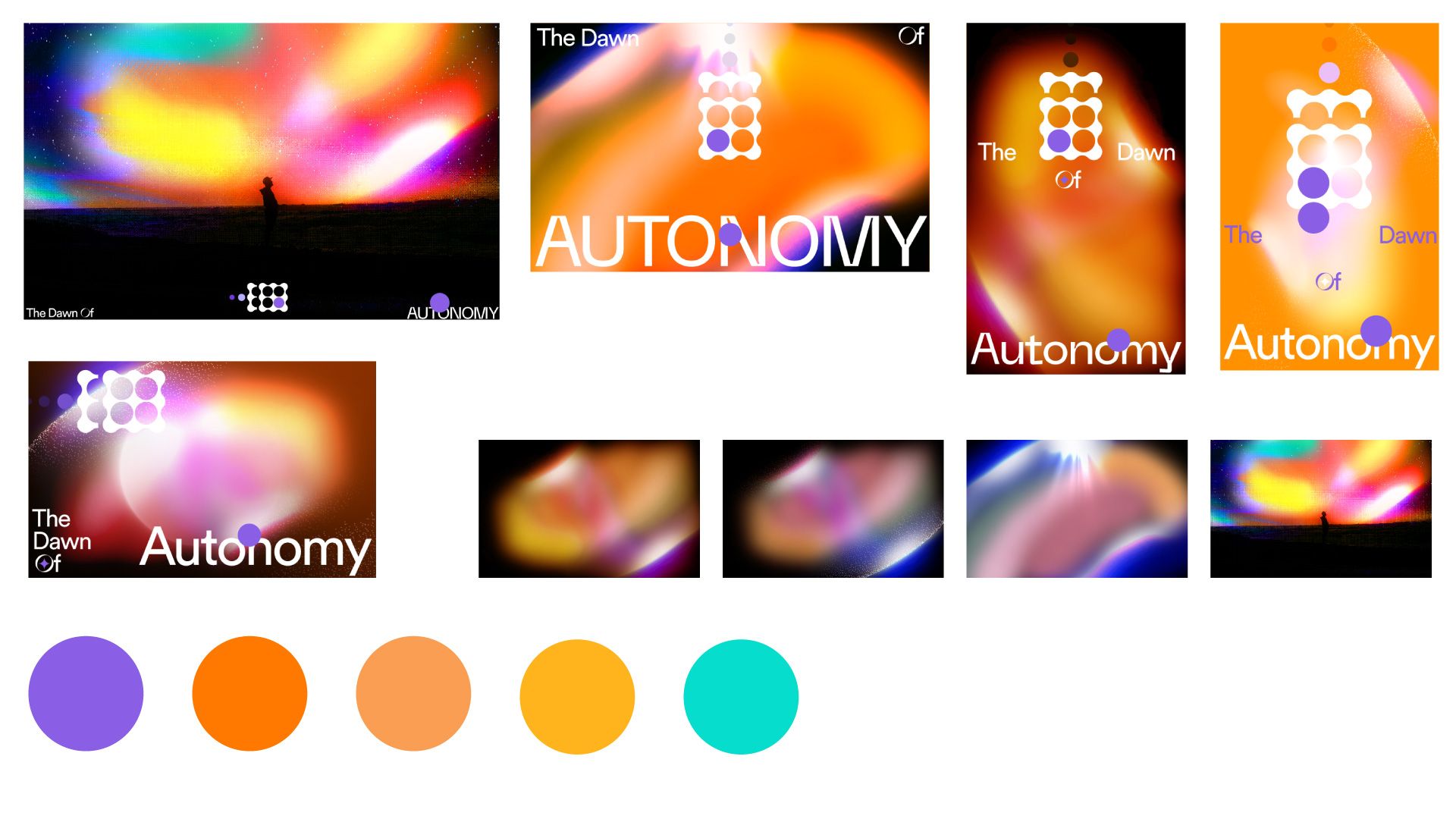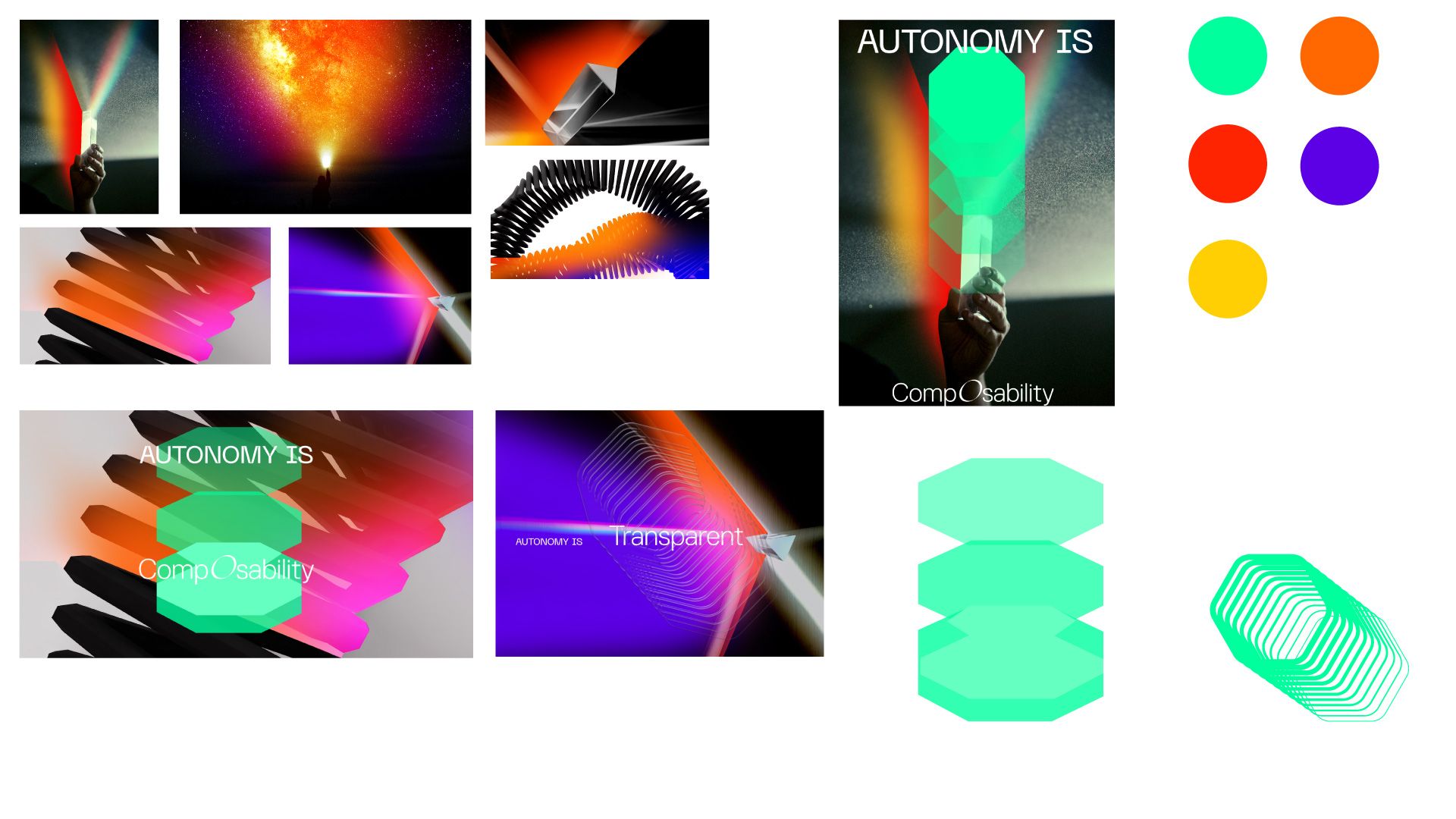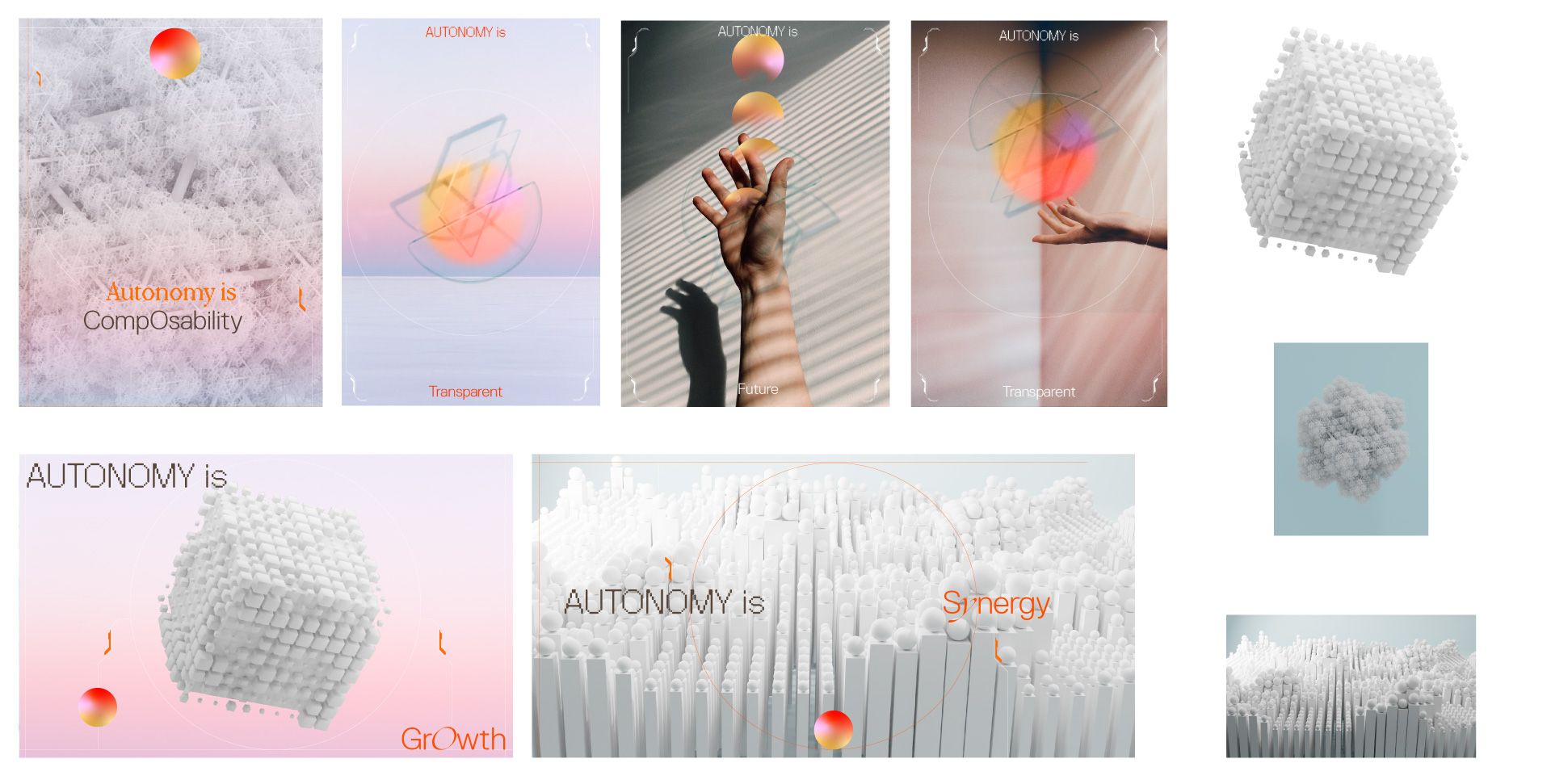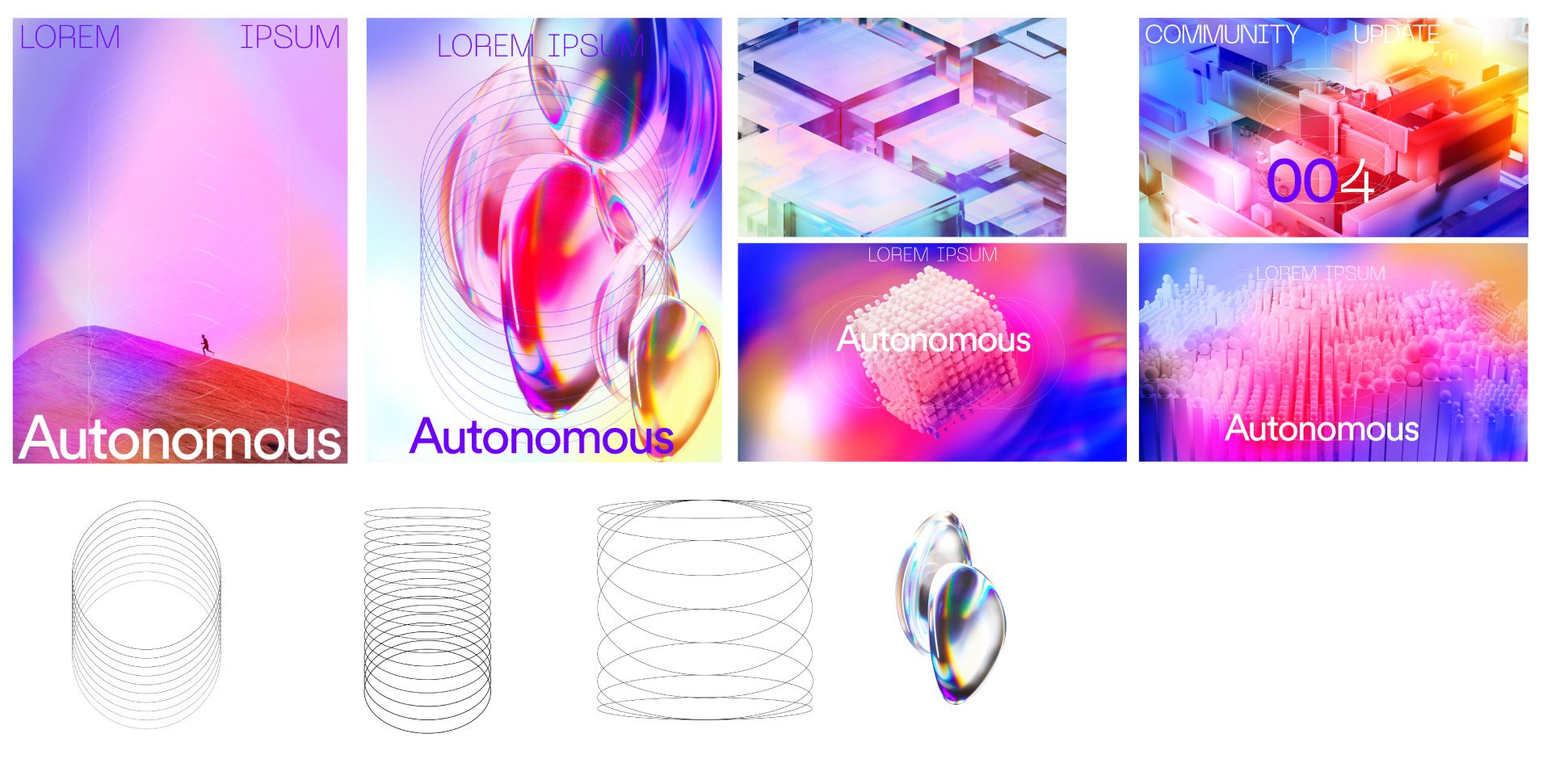 The iterative design process
Decisions and process related to the brand values:
Color Palette - we decided to switch from dark, cold colors like black, blue and green to pastels and lighter colors to bring in a sense of safety and hope. Alongside the main brand color purple and the highlight color, we developed gradients to be used as backgrounds and photo treatments.

Typography - the main typeface we chose needed to convey a sense of safety. We moved away from glyphs with sharp edges and fonts with pixelated effects. In general pixelated fonts are very common in the tech space, and they instantly make the user think of machines, tech and metal. The main typeface we chose, Manrope, is simple and human. We wanted the typeface to blend smoothly with the visuals and not bring in any sense of sharp, metal edges.

Graphic Elements - two main graphic elements were developed for the new brand. The first was glass objects to convey a futuristic sense of wonder, with transparency encapsulating and communicating complexity. While simple at first glance, a closer look reveals more detail. They were designed to be a part of the community visuals and to showcase the individual, the art, the possibilities of the crypto space.
The second was a dynamic element of murmurations to convey both excitement, and to make a visual reference to a real-world complex system, with individual actors working together as a group. In the same way, with Autonolas, single agents cooperate to create a whole that is greater than the sum of its parts. Based on these objects, we can build a specific design system and visuals for different types of communication materials.
A common element across all of the brand visuals are pastel gradients. Each of these graphic elements can be combined and reinterpreted to create specific visuals.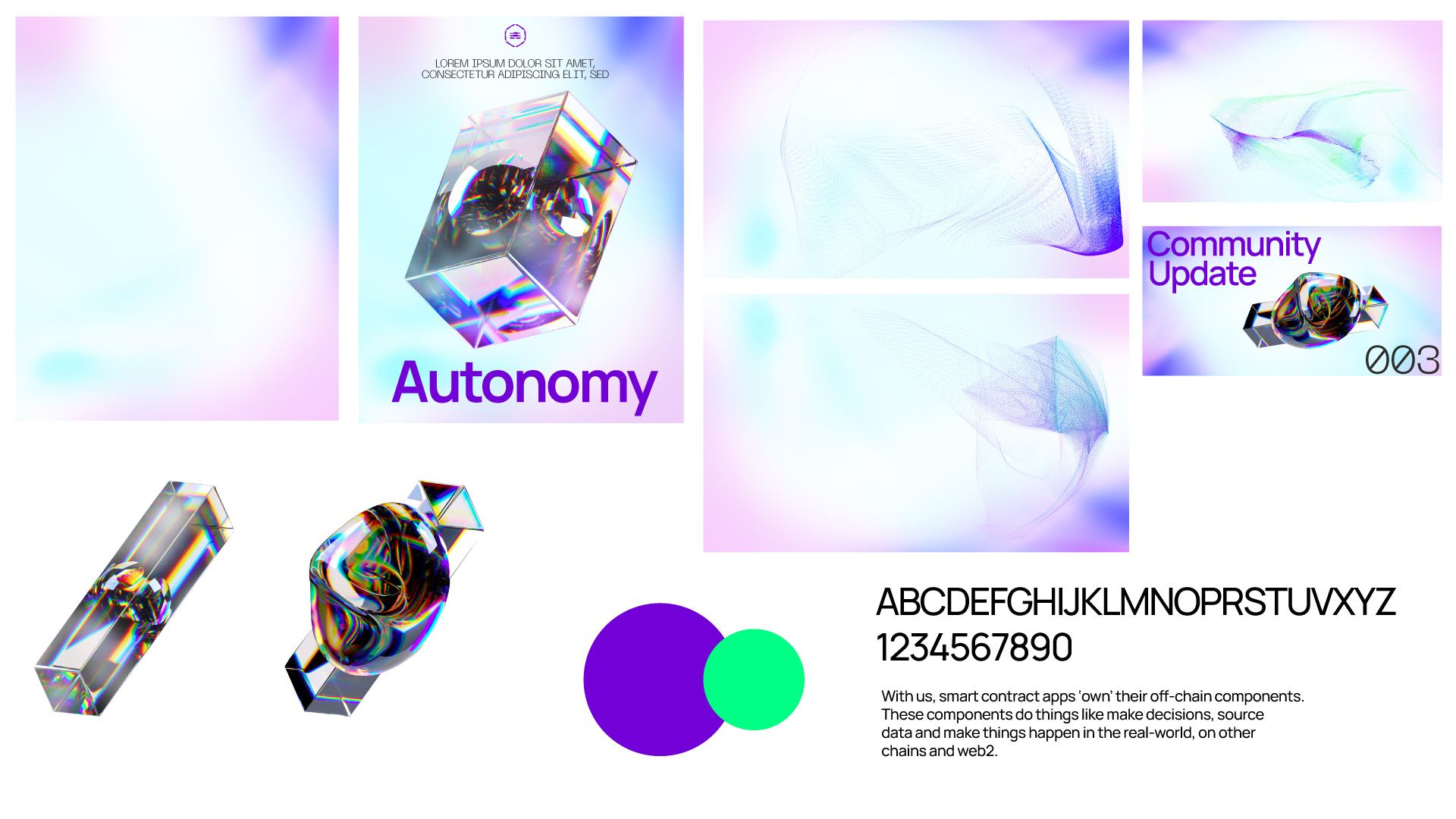 The final visual identity
Combining all of these elements communicates the brand's core values in a cohesive visual identity. The colors, graphic elements and typography were selected and developed specifically to convey and communicate the emotions that stand at the core of our brand.
We are thrilled to present to you our new visual identity and look forward to building and developing it together.